Kele Okereke heeft een nieuw album aangekondigd, De vlammen pt. 2. Het zesde soloalbum van de leider van de Bloc Party staat gepland voor release op 24 maart via KOLA Records/!K7. Om mee te gaan met het nieuws, heeft Kele een nieuwe single met de titel "Vandal" gedeeld, die je hieronder kunt bekijken, samen met de albumhoes en de tracklijst.
'Vandal' merkt dat Kele zijn frustratie kanaliseert over waar Groot-Brittannië voor staat en wat het betekent om Brits te zijn, volgens een persbericht. "Als in Engeland geboren Nigeriaan heeft dit debat me boos gemaakt", zei Kele. "Ik had het gevoel dat ik de afgelopen jaren veel van die woede met me meedroeg, dus met 'Vandal' had ik het gevoel dat ik het ergens nuttig moest stoppen."
"Er zijn de laatste tijd niet veel dingen geweest die me trots hebben gemaakt om Brits te zijn, maar toen ik zag hoe deze mensen in Bristol het standbeeld van Colston neerhaalden, was ik enorm trots", vervolgde hij. "Het waren gewone mensen die zeiden 'nee, deze slavenhandelaar vertegenwoordigt mijn Groot-Brittannië niet'. Het was een daad van verzet die ik begreep en plotseling ving ik een glimp op van een Groot-Brittannië waarin ik kon geloven.
De vlammen pt. 2 zal die van 2021 volgen De golven pt. 1, die Kele schreef en opnam tijdens de lockdown terwijl hij zich 'verloren op zee' voelde. Hij legde uit:
Ik heb altijd geweten dat ik een uitweg uit dit gevoel zou vinden, en ik heb altijd geweten dat ik op The Waves zou reageren.
Vuur is krachtig, het is zowel creatie als vernietiging en ik wilde die spanning op de een of andere manier weerspiegeld zien in de muziek, het geluid van verteerd worden door onze verlangens, van gevoelens die zo intens branden dat ze letterlijk uitschakelen.
Net als bij The Waves was het belangrijk dat alle geluiden op de plaat door mijn elektrische gitaar werden geproduceerd. Het schrijven en opnemen van een plaat in deze omgeving dwong me om creatiever te worden als muzikant, van loopende ambient-texturen tot fragiele drummachinebeats. het wordt allemaal gedaan door mijn gitaar en mijn looppedalen, en zo wordt het gespeeld.
De vlammen pt. 2 Omslagillustratie: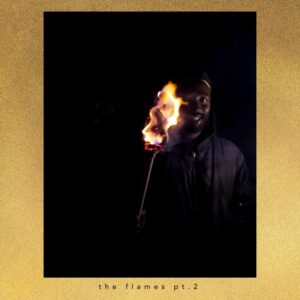 De vlammen pt. 2 Lijst met nummers:
1. Ik heb nooit
2. Zorgeloos
3. En hij was nooit meer dezelfde
4. Ware liefde kent geen dood
5. Vandaal
6. Zijn donkerste uur
7. Geen risico, geen beloning
8. Iemand om me aan het lachen te maken
9. Ik ben verliefd op een schets
10. Handel op een voorgevoel
11. Kerosine
12. De kleur van de stervende vlam